Andrew Baxter
Languages: English
Cities: Fort William Oban Iverness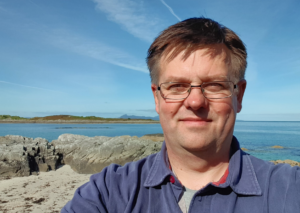 Availability: Normally on weekday evenings and anytime weekends
Holiday: 9th to 19th July 2021
My favourite spot in Fort William: Steall Waterfall
What is it?
Just a short drive or taxi ride from Fort William town centre takes you along Glen Nevis with high mountains towering either side. As the road twists and turns through the glen you get glimpses of the mountain peaks all around. Keep an eye out for both red deer and the friendly, and ever-so cute, Highland cows with their distinctive long shaggy coats. 
The road end brings you to a small path that winds alongside the tumbling waters of the River Nevis through a narrow alpine gorge. Walking along this rocky path demands you to take your time, after all there is no hurry when you are enjoying the surrounding Scottish countryside and scenery. 
After awhile you stride out of the gorge into a wide flat meadow with the river meandering across the glen. There in front of you are the cascades of the Steall Waterfall crashing down the mountainside. 
Why do I like this place so much?
The ramble to the waterfall is the perfect way to walk off an indulgent lunch or on a sunny day to pack a picnic and sit by the riverside enjoying the mountain scenery. It doesn't matter the season or the weather I always spot something different along Glen Nevis. I love it because even though there might be many other visitors around you can always find a quiet spot.
I'm a big fan of the Harry Potter movies and you will spot the Steall Falls in the background of many of the films including in some of the quidditch playing scenes at Hogwarts. Unfortunately, I have no magic to help me cross the seemingly precarious wire bridge that walkers use to cross over the river to explore the mountains beyond. So, I just enjoy watching those braver than me wobbling across. 
My favourite restaurants:
Lime Tree Restaurant, Fort William. Locally sourced and seasonal ingredients
Eeusk, Oban. Local fish and seafood with harbour views
The Waterfront, Inverness. Home cooking in a cosy informal setting. Often have live traditional music.