Anna Balawender
Cities: Krakow
Language: English, German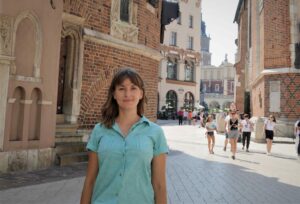 Available: Normally daily
Holiday: 15 to 29 August 2021
My favourite place: Kanonicza Street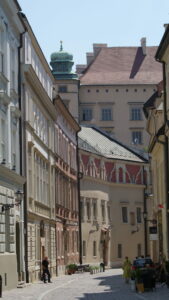 What is it?
Kanonicza Street is a picturesque alley, located between the vivid Main
Square and majestic Wawel Castle. It was once a part of the Royal Road,
where coronation or royal funeral processions followed and foreign deputies
headed towards the king's residence. The street was chosen by the noble and
influential people since the middle ages as the best place to build elegant
mansions. There are still fine gothic architecture details and beautiful
renaissance palaces there. Halfway you can take a rest on a cozy plaza and
admire a great baroque facade of Jesuit church of Saints Peter and Paul and
one of the Krakow's oldest buildings – the Romanesque Church of Saint
Andrew.
Why do I like this place so much?
I like to stay there for a while in the middle of this alley and listen to
a street violin player or step to one of good restaurants there for a tasty
dinner and a glass of wine. Kanonicza is a beautiful and peaceful place
between must-see tourist attractions, where time passes a little bit
slower. One can look at 16-century house portals and think for a moment
about eminent people that used to live there in the past. This street also
hides a few gems, one of which is the Erazm Ciolek Palace that impresses
its guests with a collection of excellent medieval works of art and unique
icons.
My favourite restaurants:
Morskie Oko – delicious Polish food
Camelot – tasty food and deserts and nice atmosphere
Hamsa – nice Israeli restaurant
Videolink https://youtu.be/nX2RB371bao