Catherine Gritz
Languages: English, German
Cities: London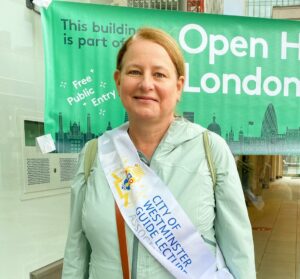 Usually available on every evening of the week.
Time of day when normally available: from 17:30
(5:30pm).
Holidays: nothing scheduled
Corona Restrictions: non
My favorite spot in town: Canary Wharf,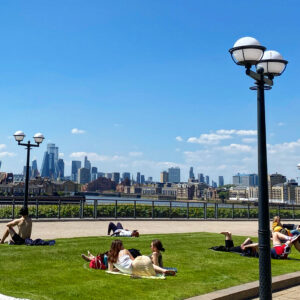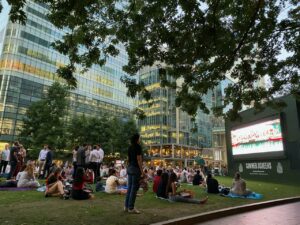 What is it?
Cycling is my primary form of transport around London and I often take the Thames Path along theriver from Limehouse to Canary Wharf. I never tire of the view along this stretch and find it amazinghow this area has changed in the last few decades. Even ten years ago Canary Wharf was like a ghosttown on weekends after its financial sector workers left work on Fridays. But now young families pushing prams and people picnicking or exercising populate its pathways and parks. Canary Wharf has re-invented itself so many times already and looks poised to do the same post-pandemic. Following the closure of the docks in the 1980s, it was designated a free enterprise zone and reborn as London'ssecond financial centre in the 1990s with the expertise of Canadian developer Paul Reichmann. Then the City of London lifted its height ban on tall buildings and suddenly Canary Wharf faced competition to house the big banks in expansive new office space. So the Canary Wharf group pivoted to attract firms in other industries like life sciences and technology. And the popularity of the area as a residence has exploded over the last decade with about 180,000 people now living within a mile of it. The Brexit shock and shift to home-office working has changed how people live and work but Canary Wharf will surely remake itself into a form ready to meet these new challenges.
Why do I like this place so much?
There always seems to be a reason to go toCanary Wharf. The restaurants, bars, and amenities, some in an underground mall, are
are one part of it, as is the Museum of London Docklands, which belongs to the Museum of London. The Jubilee Line of the tube and the DLR (Docklands Light Rail) down to Lewisham run through it. Taking the driverless DLR is fun for kids as they can sit at the front and pretend to be driving. The wide streets of the estate and riverside and dockside paths are great for walking and biking and there is a rooftop garden as well. And because Canary Wharf sits at the top of the Isle of Dogs, it has the river surrounding it on three sides with the old dock basins as well so there are water views everywhere!
Festivals and free activities happen frequently: outdoor movies, mini-golf, art installations, and a winter lights festival are just a few of them. The towering buildings and business lunch crowds remind me ofNew York City, which brings back childhood memories while Westferry's riverfront promenade feels like Hong Kong's Central District, special to us because we lived in Hong Kong in the 90s
Restaurants
● Zaibatzu http://www.zaibatsufusion.co.uk This hole-in-the-wall restaurant in Maze Hillnear Greenwich offers the most amazing Japanese fusion dishes such as sushi, sashimi, noodles, salads, and tempura similar to that of Michelin Star restaurants but at prices found at street stalls. What Zaibatzu lacks in ambience (think small and cramped with laminated tabletops), it makes up for with friendly staff and attentive, quick service. It can sometimes be difficult to secure a reservation considering that they only have about six or eight tables.
● Cocotte https://www.mycocotte.uk/shoreditch Cocotte specialises in free-range rotisserie chickens sourced from France that are marinated in a blend of herbs and spices before being served with the most delicious sides and salad (the truffle mash is to die for!). Located in lovely Hoxton Square in the heart of Shoreditch, Cocotte has an outdoor terrace area, cosy indoor seating, and surprisingly reasonable-priced cocktails.
● Boisdale https://www.boisdale.co.uk/canary-wharf/the-venue/restaurant/ A bit old-school(but in a good way!) restau­rant and music venue serv­ing mod­ern British food, Boisdale overlooks Cabot Square in Canary Wharf. The boast a whisky bar, a large ter­race, and an oys­ter bar & grill. It has a very relaxed atmosphere and offers diverse musicalentertainment. This gives is a great classic feel almost like an old-time jazz club.