Eva McQueen
Languages:
English, Spanish, German
Cities: Malaga, Torremolinos, Benalmadena Costa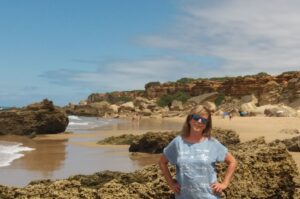 Availability: No holiday planned
My favourite place: Castillo de Colomares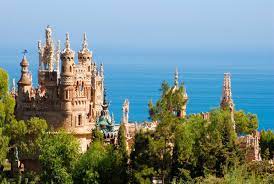 What is it?
Castillo de Colomares is a monument, in the form of a castle, dedicated to the life and adventures of Christopher Columbus. It was built near Benalmádena in Spain, between 1987 and 1994. Covering an area of 1,500 meters, it is the largest monument in the world to the explorer, but also contains the smallest church in the world, covering an area of just 1.96 square meters.  
When we think of castles, our mind makes us think of knights and princesses, and inadvertently we go back to the Middle Ages. However, although there are few, some castles are more recent such as the Colomares castle, one of the fewest built in the 20th century. Due to its dimensions and the smallest church in the world, it holds 2 Guinness records. Some lucky couples can celebrate their wedding there.  
It is an eclectic mix of architectural styles. It was designed by Esteban Martin, born near Barcelona.
It has various elements that allude to the Catholic Monarchs and to the  religions present in medieval Spain: Christianism, Islam and Judaism. Among other curiosities, there is a Chinese pagoda inside the castle that refers to the original idea of Columbus who wanted to reach the so-called Indies, where the discoverer believed he had arrived when he landed on the Caribbean islands. 
Another peculiarity of the Colomares Castle is that it contains an empty Mausoleum that intends to house – one day- the remains of Christopher Columbus . According to its builder, Columbus would possibly be Mallorcan and not Italian or Portuguese, nor would he have Jewish origin as others claim.
Why do I love this place so much?
Because it is unique, very special and full of history. It tells us the story about Cristopher Columbus and the discovery of the new world, America 
I love it,  because you can feel the enthusiasm Esteban Martin put into this amazing building. He knew a lot about history, art and architecture 
 Sometime I just go there to relax and enjoy the beautiful view of the coast from there.  
My favourite restaurants
La Viborilla, Benalmadena Coast
It combines a beautiful garden restaurant with breathtaking views of the beach and the Mediterranean Sea. The seafood and fish is excellent. Try the "boquerones fritos", fired anchovies, one of the most typical fish of the area. Malaga and its coast is known for the "pescaito frito" , all kind of small fried fish. Another speciality are "espetos" , sardines on the charcoal grill. I also suggest the delicious " mixed paella" or even "black paella " with the ink of the octopuss and seafood
Los Mellizos, Torremolinos
Another famous fish Restaurant in the fishing village La Carihuela. Fishermen still go out in the early morning to catch the fish and deliver it to the many fish restaurants along this typical neighbourhood of Torremolinos . Big variety  fish an seafood on the nice promenade and seafront. I would suggest scallops , calamari or Dorada a la sal (seabass in salt crust)