Garvan Rushe
Languages: English, French
Cities: Dublin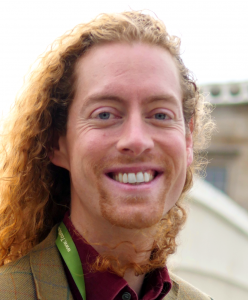 Available normally on: every evening of the week.
Time of day when normally available: from 18:00 (6 pm) weekdays and weekends.
Holiday: nothing scheduled
My favourite place in town: St. Stephen's Green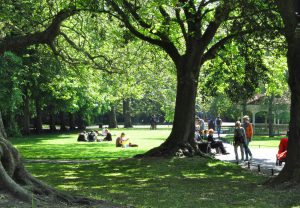 What is it? 
As a visitor to Dublin, you must amble down famous Grafton Street, the city's commercial centre, with its buskers and street sellers. At the end of the street, you'll be greeted by the Fusilier's Arch, inviting you into St. Stephen's Green. This is arguably Dubliners' favourite part of the city. 
And since Ireland practically 'owns' the colour green, it is rather fitting that the park does merit such high praise.
Originally a private park for the residents of the square, Arthur Guinness (III) purchased the rights and gifted it to the city. Dubliners have been showing their gratitude ever since by, duty-bound, pursing their lips to a pint of Guinness. Arthur might owe us a few dozen parks by now! 
At 22 acres (8.9 hectares), the park is big enough to escape the 'pavements grey' and surround yourself with greenery. When you've fully restored your vitality, a host of shops and restaurants is just a few steps away, or if fancy more fresh air in the city, Trinity College's verdant campus or Merrion Square are only one block away! 
Why do I like this place so much?
There's nowhere in the city like The Green to boost everyone's spirits. Here you can see office workers escaping to calm their temperament and eat their lunch on one of the park's many benches. Young families feed the ducks before heading to the playground. Friends meet up for a chat. The elms and limes likewise share their own fables. 
Here, time grants you pause for thought. I think of Dublin throughout the ages. Then I realise: with so much action and conversation it's no wonder Dublin has nurtured so many great writers.
My favourite restaurants:
Brasserie Sixty6 -, International cuisine

Rosa Madre. Seafood, Italian