Jasmin Nitzschner
Languages: German, English
City: Bremen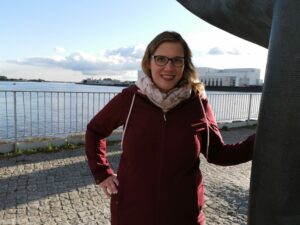 Available: On request
Holiday: August 2st – 24th 2021, October 4th – 10th 2021, December 24th – 31st 2021
My favourite spot in town (Bremen): The Schnoor quarter.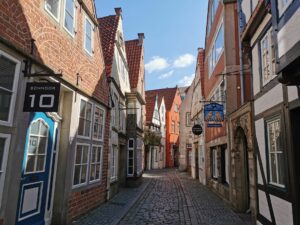 What is it?
The Schnoor quarter is the oldest part of the Old town in Bremen. It was first mentioned in a document from the 13th century when the Franciscan order established a monastery and later a church here. At one time, the Schnoor was the home of fishermen and craftsmen. Today, Bremen's Schnoor is one of the city's tourist attractions. During World War II the Schnoor was not destroyed to the same extent as other parts of Bremen, so most of the houses are historic. But in the 1950s the city of Bremen began to restore and renovate the quarter. The houses were painted and some of them got new facades. You can find interesting decorations like friezes, little figures and archways everywhere. The Schnoor is a really enchanting quarter with restaurants, cafés, shops, little art galleries and the "Bremer Geschichtenhaus" (House of Bremen's history). You can admire fancy things in the display windows of the craftspeople.
Why do I like this place so much?
Narrow alleys and the tiny crooked houses – that is why I love the Schnoor quarter so much. They remind you of bygone times when the people lived in the crooked houses in the Middle Ages. The Schnoor is beautiful at any time of the year. In summer you can sit at the outside area of the restaurants and enjoy the vivid atmosphere of this little quarter. And in winter, especially at Christmas time, you feel like as if you are part of a fairy tale. Everything is wonderfully illuminated then. A special delight is to visit the "Teestübchen" for a cake and a cup of tea.
My favourite restaurants:
Bremer Ratskeller, Bremen (Center). North German and local cuisine.
Kleiner Olymp, Bremen (Center). International and local cuisine.
Riva, Bremen (Überseestadt), French and Italian cuisine, Fine dining.