Larisa Skalerič
Languages: English and Italian
Cities:  Ljubljana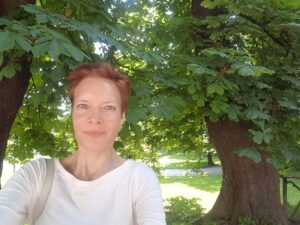 Available: normally on every evening of the week (from 6 pm)
My favorite spot in Ljubljana: Tivoli City Park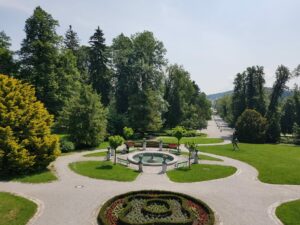 What is it?
Tivoli Park, also known as Tivoli City Park, is the largest green space in Slovenia's capital Ljubljana. It connects the city centre to the forest area on the Rožnik and Šiška hills. With its 5 square kilometres, Tivoli Park is the largest green space of the capital and one of the most popular places to visit in Ljubljana. It's the perfect place to relax and unwind, to enjoy in nature and to escape from every day rush. The park has over two centuries long and very colourful history, as is the tradition of visiting and walking around it.
Did you know that New York City's Central Park encompasses 341 hectares, London's Hyde Park 140 hectares, whereas Tivoli, Rožnik and Šiška Hill Landscape Park comprises 459 hectares?
The park was designed in 1813 by French engineer Jean Blanchard. He also designed many of Tivoli's tree-lined lanes and flower gardens, but the park got its present appearance gradually over the course of several decades. The first major addition came in 1880 when a fish pond was constructed on the southern edge of the park.
In the 1920s and 30s, Jože Plečnik, who is considered the greatest architect of Slovenia, designed the Tivoli's central promenade, the highlight of the park, and thus connected the park with the city itself. The promenade has become an outdoor exhibition venue for large format photographs.
Tivoli also houses many cultural monuments of national importance such as Plečnik Promenade, Cekin Mansion, Triangular Park, location of the summer theatre in Tivoli, and 23 other cultural heritage units.
The landscape park is a home to numerous animals. Some of them live in forests, others in open green spaces, whereas some live near the water surfaces.
Why do I like this place so much?
In my opinion, Tivoli City Park is a natural pearl just a few steps from the city centre. Let's discover why!
I can enjoy peace and quiet inside this green area with its less crowded places and calming forests. The landscape park offers more than 15 kilometres of forest trails where one can connect with the peaceful nature. The park also features the Mostec jogging path. Being passionate about jogging, I am a regular visitor here. I can run over 10 kilometres in and around the park. Aside from walking or jogging, I can also rent a bicycle, which is relatively inexpensive.
Green lawns are ideal for enjoying a day in the nature and having a picnic (I never forget to bring a blanket ). There are many adventure playgrounds for children and a fun mini-golf course.
My favorite restaurants: