Luis Guerreiro
Languages: Portuguese, English, Spanish
Cities: Porto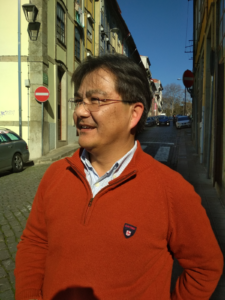 Available normally on: every evening of the week.
Time of day when normally available: from 19:00 GMT weekdays and weekends.
Holiday: nothing scheduled
My favourite spot in town: The view over Porto and the Douro river from D. Luiz I bridge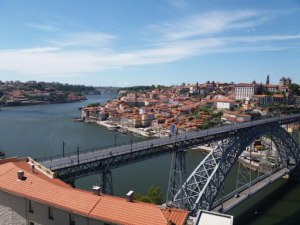 What is it?
The view over Porto from D. Luiz I bridge built in the 19th century is just beautiful with an outstanding landscape classified as a UNESCO World Heritage Site. The first photo shows the Historic Centre of Porto. The second photo shows an area which hosts dozens of Port Wine cellars mixed tastefully with modern buildings. Between both banks is the mighty Douro river flowing on its way to the Atlantic ocean. 
It is a city where, throughout the years, an accord has been maintained between the need to keep the  historic buildings and the need to modernise the city.
Since the city is located close to the coastline and the ocean, you have a different side to it. Apart from numerous beaches nearby, it's a city that offers visitors a wide range of water sports activities, cycling and jogging areas.   
Why do I like this place so much?
It is a place where you have a beautiful view over the city. It offers a sense of tranquility and peace.Traditionally, the population is friendly and loves to relate their culture and traditions with travellers. You can get a sense of a cosmopolitan city where a lot is happening around you but everyone goes about their business at their own pace. It's fun to watch joyful people gathering in gardens, cafes and restaurants, taking boat rides, sightseeing, in a safe and peaceful environment.  
My favourite restaurants   
O Gaveto – Seafood + Portuguese traditional food
Rogério do Redondo – Portuguese traditional food
O Malheiro – Portuguese regional food