Monika Auksutyte
Languages: Lithuanian (native), English (fluent), Russian (conversational)
City: Vilnius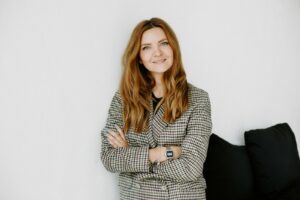 Available: on request
Holidays: December 24th – 1st 2022
My favorite spot in town: the self-declared Republic of Uzupis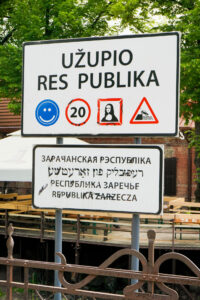 What is it?
What began as a April Fools' Day joke has evolved into one of the smallest republics in the world, covering less than 1 sq. km. But don't be fooled by its size – it has its own president, government, constitution, flag and currency, and even has a navy consisting of three or four small boats (used mainly for ceremonial purposes). The name meaning 'beyond the river' in Lithuanian, Uzupis is separated from the rest of the city by the Vilnele River.
Although Uzupis is not recognized by foreign governments as an official Republic, this micro-nation has become a source of pride in Vilnius and throughout Lithuania.
The republic celebrates its independence annually on 1 April, known locally as Uzupis Day. On this day, people can get their passports stamped as they cross the bridge into the republic, use the local (unofficial) currency and treat themselves to the beer that flows from the water spout in the main square.
Why do I like this place so much?
The atmosphere in Uzupis is completely different from the rest of the city. You feel happier and more relaxed here. You can go into the pub and meet the mayor of the city, or a famous basketball player or a famous artist, and everybody is just chilling and having a drink.
The co-founders of Uzupis wanted to create a place where people could disconnect from the distractions of modern life and reconnect with what's important in life. So, if you cross the bridge, you can become yourself. You don't play any social role, you don't belong to anyone, you belong to yourself. You can think about who you are and you can live without being part of that mad race that all of humanity is involved in these days.
And it's all in the famous constitution of Uzupis, that is now translated into many languages and is hanging on one of the walls of the republic. The 41 clauses hold the essence of Uzupis' ideals of free thought, with points such as 'Everyone has the right to die, but this is not an obligation' and 'Everyone has the right to understand', as well as, confusingly, 'Everyone has the right to understand nothing'. Even the republic's pets are mentioned, with clauses such as 'a dog has a right to be a dog', and 'a cat is not obliged to love its owner, but must help in times of need'.
My favourite Restaurants
Uzupio picerija:  Italian comfort food, Paupio str. 3
Ertlio Namas:  Modern Lithuanian cuisine, Sv. Jonu str. 7
Café Backstage: light eats, desserts and best coffee in town, two spots in town