Languages: English, German, Greek
Cities: Belgrade, Novi Sad, Nis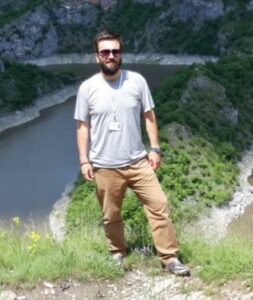 Available: normally on every evening of the week from 19.00 (7.00 pm) on
Holiday: nothing scheduled
My favourite place in town: Belgrade fortress and Kalemegdan park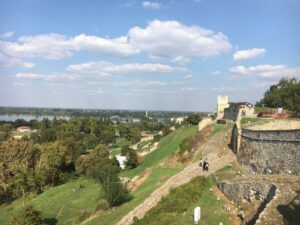 What is it?
Imagine a place with more than 2000 years of history, at the confluence of two great rivers, covered with trees more than a hundred years old, and fortification structures dating all the way back to the Roman times… Now open your eyes and behold the Belgrade fortress and Kalemegdan park, located in the very heart of the city of Belgrade.
A bastion of Christianity and gateway between central Europe and the Balkans, Belgrade is one of the oldest active capital cities in Europe. It is the capital of Serbia, and was the capital of the former kingdom and socialist republic of Yugoslavia. This fortress sitting at the confluence of the rivers Sava and Danube bears the burden of the centuries that stormed across its walls. The oldest part of it was built in the 1st century AD by the Roman Empire, and was an important castrum and municipium at the northern border of the Empire (Limes). As it has been involved in no fewer than 115 wars, it was destroyed and rebuilt 44 times, so you can only imagine the great deal of construction and reconstruction over the centuries
Nowadays the fortress and the park are the most beloved and visited spot in the city. Regardless of what time of the day or night you find yourself in its embrace, you will surely enjoy it. It offers shade in the hot summer days, shelter from the rain, numerous activities and holds a great deal of mysteries and stories of the past and present.
Why do I like this place so much?
I fell in love with it the first time I set foot on the ground of this spectacular place. It happened when I was just a little boy, and since then it is an inseparable part of my life and work as well. It is not just the history of it. It's the roars of wind and kinetic energy – it almost has a beating heart. It's the spectacular views. But there is so much more, and I would like to share it with you. Just to experience a glimpse of the Belgrade fortress and Kalemegdan park is enough to leave an impression to last a lifetime.
My favourite restaurants:
Šešir moj, Belgrade
Botako, Belgrade
Gastro Rustic Pub, Belgrade