Nicholas Fitzgerald
Cities: Dublin
Languages: English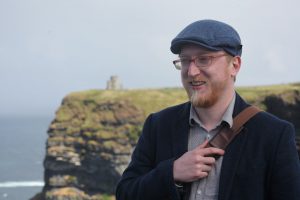 Available normally on: every evening of the week.
Time of day when normally available: from 16:30 (4:30pm) weekdays and weekends.
Holiday: nothing scheduled
My favorite spot in town: Georgian Dublin
What is it?
Dublin is a historical jumble. The intrepid explorer may come across a medieval church, a Victorian pub and an Irish rebel stronghold all on the same street! My favourite area of the city, however, is Georgian Dublin. Beautifully maintained and world-renowned for its colourful architecture, Georgian Dublin invites the visitor to experience the quaint old Dublin of James Joyce and Oscar Wilde.
The Georgian Houses are best known for their ornate and colourful doors. The most popular story told about this is that the writer George Moore was living next door to the poet Oliver St John Gogarty and he painted his door so that the drunken poet could remember which house he belonged to!
In reality the ornate and colourful doors were probably a way for the residents of Georgian Dublin to express their individuality. Look closer though and there is a wealth of individuality among the Georgian homes. The building contracts were handed out two at a time. So although the squares may look uniform at a glance, every couple of houses is entirely different to the previous couple. A very pleasant aesthetic effect!
Why do I like this place so much?
Georgian Dublin is always a lively area.
By day you can take in the renowned Hugh Lane gallery at Parnell Square, perhaps visit Leinster House (former mansion of the Earl of Kildare and currently the home of the Irish Parliament) or even visit the Grand Lodge of Ireland: the longest running Freemason's Lodge in the world, and open for visit!
By night there are great opportunities as many of these former Georgian townhouses have been converted into restaurants, hotels, bars and night spots.
https://youtu.be/guLaqh6D-z8