Sara Ficarelli
Languages: English, Italian, Spanish, French
Cities: Brussels for a drink or a dinner. For guided tours I can cover different cities, places and museums: don't hesitate to ask!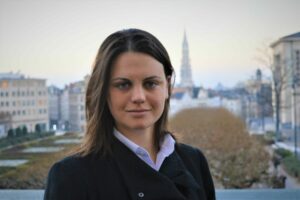 Available normally on: every evening of the week.
Holiday : not planned
My favourite place in town: the Grand-Place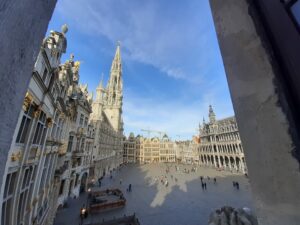 What is it?
The Grand-Place is a question of heart: it lies at the heart of Brussels and you'll fall in love with it in a heartbeat. Despite the medieval origin of the square, an important part of it was built after 1695, when Brussels was ravaged by flames. The different architectural styles displayed in the square are proof of the richness and importance of this place, which nowadays is listed as a UNESCO World Heritage Site. In fact, the Grand-Place was the heart of the economic life of the city for many centuries.  The 15th century Gothic town hall is a real gem and the true witness of the history of this magical place. On its facade, the sculptures are still telling us many stories about important characters and legends related with the city of Brussels, Belgium and Europe in general.
Last but not least, the cafés, the museums and the restaurants make the Grand-Place an important crossroad of activities that brings together residents, tourists and architecture lovers in one beautiful place.
Why do I like this place so much?
I have to admit that I'm always a bit excited by the panorama of the Grand-Place. I love to go there in the late evening or early morning to appreciate the architecture and enjoy a sensation of peace. Furthermore, since I adore Belgian beers, I personally love to sip a good one in one of the many characteristic terraces that you can find on the square.  
My favourite  Restaurants
Vincent
Scheltema
La Manufacture
My Favourite Cafés
À la bécasse
Le Poechenellekelder
À la Mort Subite