Tjaša Janovljak
Languages: English, Spanish, Serbian, Slovenian
City: Ljubljana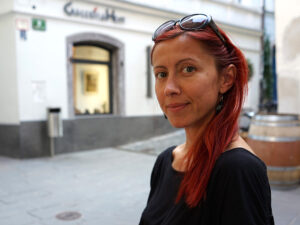 Available: Normally every day. No holiday planned.
 My favourite place: the centre of Ljubljana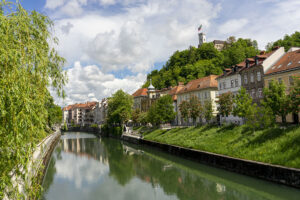 What is it?
The downtown and historical centre has many parks with beautiful and green embankments along the charming river Ljubljanica, which flows through the centre. Above it is yet another green area: Ljubljana Castle hill with its forest and meadows. Of course, the view from here is amazing. A perfect combination of cultural and natural.
Why do I like this place so much?
Anyone that has visited Ljubljana will likely understand why I love this place. The combination of culture, people, architecture and tall trees, green parks and nature all together amazes me. There's an interesting contrast between the concrete, giving an obvious urban feel, yet green is everywhere. With just a 10 min walk I am in the central Ljubljana park, 'Tivoli', or up the hill of Ljubljana castle overlooking the town and with an amazing view of the mountains in the back.
My favourite restaurants
TaBar – Innovative combination of food and the best open wine list in the city centre
Altroke – The best gnocchi with truffles in Ljubljana
Landerik – Slovenian food and wine in a very stylish environment