Valentina Longo
Languages: Italian, English, French and Spanish
Cities:  Florence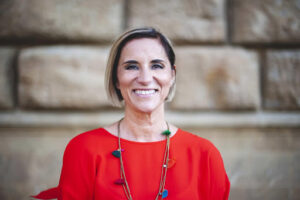 Available every evening of the week 
Time of day when normally available: From 18,30 (6,30pm)
Holiday: Noting scheduled 
My favourite place in town: Piazza Santissima Annunziata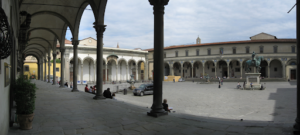 What is it?
We all know that Florence is the cradle of the Renaissance, and there's no other square in Florence where you can see the perfection of its architecture. In Piazza Santissima Annunziata, you can find the Church of Santissima Annunziata, a marvelous place of great devotion for the Virgin Mary, but also full of beautiful frescoes made by great artists of the 1500s.
In addition to this, there is one of the most ancient and most important institutions of Florence, the "Istituto degli Innocenti" (The institute of the Innocents).
The "Istituto degli Innocenti" is the most ancient orphanage in the world, founded during the 1400s, and designed by the most important architect of the renaissance: Filippo Brunelleschi – the genius who was able to raise the dome of the Cathedral of Florence. The building is a pure example of renaissance architecture. The institute, since it was opened, welcomed all the children abandoned by, or lost from, their parents. Still today, it  is a place entirely dedicated to children and houses also a UNICEF centre. 
In addition to this, the orphanage also houses an interesting museum, where you can learn its history as well as that of the children who lived here for all those centuries. 
Why do I like this square so much? 
As a visitor to Florence you will for sure visit the magnificent Cathedral of Santa Maria del Fiore with its impressive dome that dominates the city. The square may be very crowded, and sometimes it's even hard to walk around. But if you walk for 5 minutes through Via dei Servi, which is right next to the Cathedral, you'll reach Piazza Santissima Annunziata. So just a few steps away from the hustle and bustle, you can turn the corner and the atmosphere is completely different. And even though it's so close to the cathedral, this is a place that only the locals know. 
Being also very close to the University, you may find students having their break seated on the steps, or maybe someone who reads a book, and when spring comes and the sun shines above Florence, you may see somebody just enjoying the sun with a drink and a chat with some friends.  
This is a fantastic secluded square to relax and soak in the beauty of Florence.
My favourite restaurant: Trattoria San Pierino
A Trattoria in Italy is a place where you eat traditional food in a very casual atmosphere. Usually a Trattoria is a family business, the prices are reasonable and the food is often excellent.
The dishes of the Florentine cuisine are very simple. Poor people back in the past couldn't afford to have great meals and this is why all the traditional dishes come from simplicity.