Vannella Carrelli Palombi‌ ‌

Languages:‌ ‌Italian,‌ English, German, French‌ ‌
Cities:‌ ‌Rome‌ ‌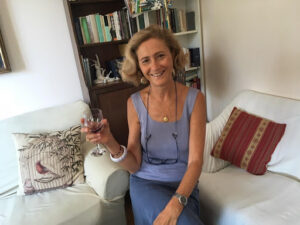 Available‌ ‌normally‌ ‌on:‌ ‌every‌ ‌evening‌ ‌of‌ ‌the‌ ‌week.‌ ‌
Time‌ ‌of‌ ‌day‌ ‌when‌ ‌normally‌ ‌available:‌ ‌from‌ ‌17:30‌ ‌(5:30pm)‌  ‌on‌ ‌weekdays‌ ‌and‌ ‌ev.from‌ ‌18:30‌ ‌
(6:30pm)‌ ‌on‌ ‌Sundays.‌ ‌
Holidays:‌ ‌nothing‌ ‌scheduled‌  ‌
My favourite place in town: The "Pincio"terrace
What is it?
One of my favourite spots is the "Pincio terrace," which  is part of the most enchanting public garden "Villa Borghese" and where we, like many other Romans and foreigners, often go for a walk. We consider this public area like our own garden, just like how cardinal "Scipione Borghese" and Pope Paul V did four centuries ago.
Why do I like this place so much?
From the "Pincio" terrace (this name refers to the ancient "Pinci" family prior proprietors of the garden, before the Borghese family) you can enjoy a spectacular view, especially in the morning. From this terrace you can perceive the presence of at least 5 of the famous 7 hills of Rome, which really helps you nearly all of Rome. You can see from Piazza del Popolo, at the foot of the hill, to the Tiber river, the city's squares and streets, domes and roofs. In the distance St. Peter's dome (named "er Cupolone" by the locals) dominates the view. From here you can orientate yourself along the east-west axis but also see the spiral flowing of the Tiber river towards the coast. Many other domes appear in this panoramic view, indicating the long and intense presence of Christianity in this city; their circular or oval form is a symbolic image of heaven protecting earth and evokes the proximity of the Mediterranean sea with its shells. The central position of Rome in the Mediterranean region has ensured its pivotal importance, thus cementing the recognition of Rome as 'The Eternal City'.
My favourite restaurants: 
At lunch time: "Settimio" in via del Pellegrino" Enoteca Corsi" in via del Gesù, "le Galline" in via Beccaria
Lunch or dinner at: "Enoteca Spiriti" in piazza di Pietra; "Adelaide" in Vilòn luxury hotel" in via dell'arancio;